Forever Trees… A structure on which to hang memorials

Remember a lost loved one
Leaves can be engraved with a personal memorial and displayed on your Forever Tree.
A memorial serves as a focus for the memory of something or someone and preserves the bond. As space is becoming more precious and land can be expensive, a Forever Tree is a beautiful, and cost effective way to provide a facility and opportunity for members of the public to hang and display a memorial leaf to a lost loved one, in large numbers, but on a relatively small footprint.
The compact tree holds around 4,500 memorial leaves, can be permanently sited or move locations, whilst the large tree holds around 12,500 memorial leaves and are permanently sited. (One leaf/token etc per hanging display hole).
Leaves are only to be sold by, or on behalf of each tree's owner, and can be used by the tree's owner to generate an income, or raise money for a chosen charity or good cause. Please click here to find out more.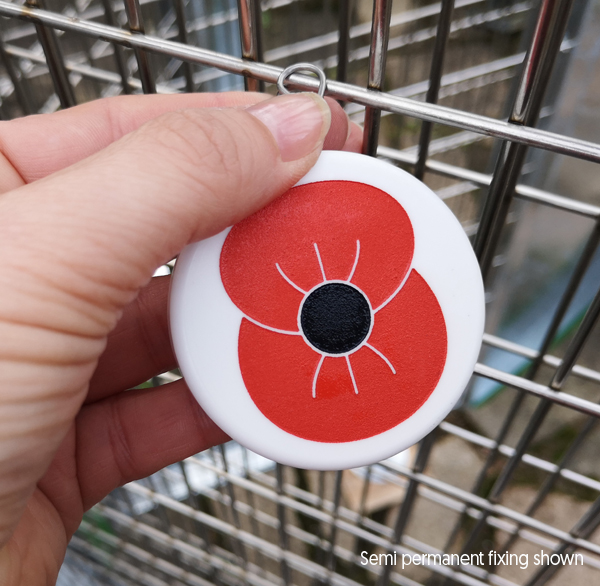 Can be and designed to be used in…
A Site of Significance
Arboretums
Animal Sanctuaries
Animal Rescue/Adoption Centres
Church Grounds
Charity or Trust Grounds
Crematoriums
Gardens of Remembrance
Geographic Location of an Incident
Hospices
Hospital Grounds
Memorial Locations
Military Remembrance Locations

Nature Reserves
Pet Crematoriums
Remembrance Woods
Sporting Supporters Memorial
War Memorials
Our special leaves…
Below are examples of our most popular leaves, these are made of a mineral material, shaped into a 55mm dia disc (all smoothed/bevelled edges). This material is; fade, rust and fire resistant, very long lasting, alluring and tactile.
Leaves are/can be engraved both sided and colour infilled (in more than one colour if requested).  We work with each tree's owner to design their own bespoke leaf/leaves which are unique to you, click here for more information about leaves.
Available with a permanent lock fixing or semi permanent fixing – depending upon your requirements.
Mineral based material available in most colours.
Infilled in any colour including silver and gold.
Photo option available.
Option to have a small amount of ashes, hair or a small artefact permanently sealed inside.
Wooden, stainless steel, plastic or acrylic leaves also available.
All Forever Trees used in conjunction with leaves, have the ability to generate an income stream, or fundraise for a charity or good cause, click here to find out more.